In the best traditions of Ethiopian hospitality, we welcome you to Ethiopian House, where good dining and good friends meet. Savor the delights of Ethiopian cuisine - a gastronomic adventure par excellence.
To our first-time guests, may we invite you to sample some new taste treats.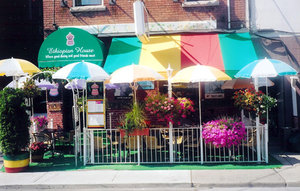 Our Injera (bread) is an Ethiopian staple served with meat or vegetables. Often folded like a large napkin, it serves as a spongy bed for meat or vegetables - and it's a side dish as well.

Small pieces of Injera are broken and with the fingers of the right hand, are used to enfold the meat or vegetables - sauce and all.
"EACH SERVING OCCUPIES ITS OWN LITTLE SPACE ON THE INJERA MAGIC CARPET"
Toronto Life
"HOME AWAY FROM HOME"
A visiting guest
Frequently Asked Questions
What kind of food does Ethiopian House serve?
Authentic Ethiopian favorites including classic beef and vegetable dishes. We also have a variety of condiments and fresh Injera flatbread.
What is Ethiopian food?
Ethiopian food has spread globally along with the African nation's diaspora. It places high emphasis on the social aspects of dining and sharing. Injera bread is an essential component of an Ethiopian meal, as are vegetables, beef, and rich, delicious sauces.
How is Ethiopian food eaten?
Ethiopian food is eaten with the hands by necessity. This is because Injera is used to scoop and fold the ingredients in a dish. Don't worry though, washing of the hands is a necessary pre-meal ritual.
Does Ethiopian House offer takeout and delivery?
Yes! However, it is typically advised that customers call the restaurant directly rather than use an unauthorized third-party app.
What is an Ethiopian coffee ceremony?
Coffee is a quintessential after-meal tradition in Ethiopian culture. The ceremony emphasizes savoring and sharing the coffee as both a social custom and a means of aiding digestion.
In which part of Toronto is Ethiopian House?
Ethiopian House can be found just off Yonge St & Wellesley St E. It is north of the bustling neighborhood of Church and Wellesley, and to the east of the University of Toronto's St. George Campus.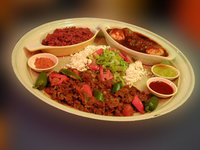 Our meats are specially prepared for individual tastes by our well-experienced chef and her kitchen staff. Vegetarian dishes include spicy split peas, chick peas rich in garlic, lentils, crunchy collard greens and smooth-roasted potatoes.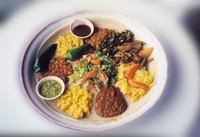 "AT THE ETHIOPIAN HOUSE, A TRENDY RESTAURANT AT YONGE AND IRWIN IN THE HEART OF DOWNTOWN. THE INJERA... RULES SUPREME. THOSE WHO GET HOOKED ON IT, KEEP COMING BACK FOR MORE."
Now magazine
Why not read our full
Toronto Star review
for more expert views?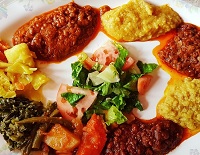 Find the restaurant:
Ethiopian House
4 Irwin Avenue
Toronto, ON M4Y 1K9
Canada
(416) 923-5438
There is undoubtedly a wealth of choices when it comes to Ethiopian food in Toronto. Our Ethiopian Restaurant is more than just a dining room but a "house" with all the warmth and atmosphere you'd expect in such an intimate setting.