Where culinary authenticity and fine ingredients meet expert Ethiopian preparation. Address: 4 Irwin Avenue, Toronto, ON, M4Y 1K9, Canada
A Warm Welcome
In the best traditions of Ethiopian hospitality, Toronto's esteemed East African establishment invites you to a place where good dining and good friends meet. Savor the delights of Ethiopian cuisine - a gastronomic adventure par excellence. To first time guests and regulars alike, the whole team at Ethiopian House invite you to sample an adventure in taste.
The House's Injera (bread) is an Ethiopian staple served with meat or vegetables. Often folded like a large napkin, it serves as a spongy bed for meat or vegetables - and it's a side dish as well. Small pieces of Injera are broken and with the fingers of the right hand, are used to enfold the meat or vegetables - sauce and all.
Here, meats are specially prepared for individual tastes by an experienced chef and a host of talented kitchen staff. Vegetarian dishes include spicy split peas, chick peas rich in garlic, lentils, crunchy collard greens and smooth-roasted potatoes.
There is undoubtedly a wealth of choices when it comes to African food in Toronto. However, this Ethiopian restaurant is more than just a dining room but a "house" with all the warmth and atmosphere you'd expect in such an intimate setting.
Kind words from critics and guests...
"At the Ethiopian house, a trendy restaurant at Yonge and Irwin in the heart of Downtown - the injera rules supreme. Those who get hooked on it, keep coming back for more."
Now Magazine
"Each serving occupies its own little space on the injera magic carpet."
Toronto Life
"Home away from home"
A visiting guest
More Information:
Hours: 12pm - 11pm (Thursday-Saturday) / 12pm - 10pm (Sunday, Tuesday, Wednesday)
4 Irwin Avenue, Toronto, ON, M4Y 1K9, Canada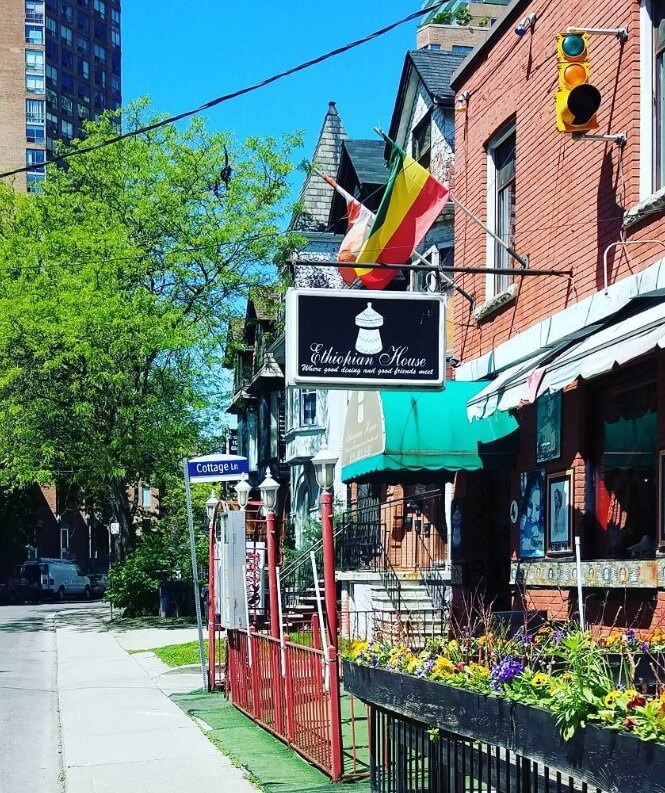 The Story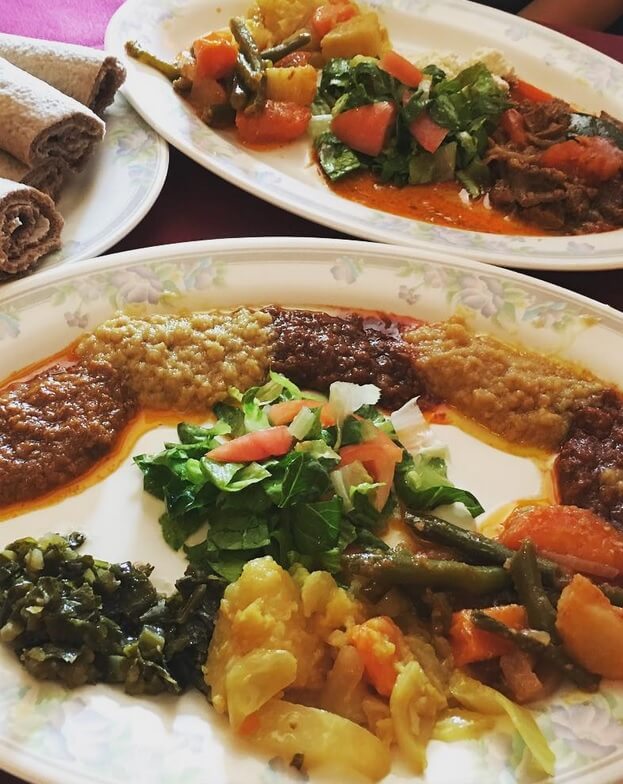 As experienced guests will no doubt know, vegetables play a crucial role in Ethiopian cuisine. Dishes are deceptively filling because they are served with generous helpings of delicious Injera bread. This means even vegetarian diners often find themselves unexpectedly satisfied after a seemingly light meal.
Naturally, the team at Ethiopian House place great emphasis on the quality, freshness, and preparation of each vegetable dish and side. This unique approach, in a culinary industry that often overlooks the "small" details, is a defining part of the restaurant's ethos in food.
Indeed, the courteous staff are always willing to dispense advice regarding options and the best suited condiments for vegetarian diners. Rest assured, there is something for everyone.
This food comes from a place of love -- we love it and we're sure you will too. So please stop by and give it a try. You'll soon see the Ethiopian House difference!
The restaurant is nestled between Church and Wellesley & Yorkville, respectively. The Ethiopian House's reputation was painstakingly built over decades in the community.
These days, not only does the city's large diaspora come out to enjoy the flavor. Locals of all backgrounds appreciate what the team has to offer and the restaurant welcomes all.


Coffee Ceremony
Planning to have a coffee after your meal? Be sure to order ahead to allow ample time for preparation.
The House's specialty Ethiopian brew is no ordinary coffee. It takes 30-45 minutes to prepare. So if you would like to partake in a traditional coffee ceremony, please let staff know when ordering your meal.
After your meal, relax and enjoy the aroma of frankincense as your host handroasts and grinds the specially selected beans. Then it's time to savor the strong beverage. Many Ethiopians drink it with a pinch of salt or clarified butter. Please let staff know which you prefer.
Did you know that the original coffee plantations were in a place called Keffa, a province of Ethiopia? In fact the word "coffee" itself came from the province where it was first grown.
Ethiopia is famous globally for its rich coffee heritage and for the quality of its raw output. However, the cultural role of coffee is perhaps the most distinctive element of what makes coffee special in the country and among the Ethiopian diaspora.
The experience is one to be savored and enjoyed in great company and as a perfect conclusion to a traditional meal. For those in a greater hurry, regular coffee is also available on request.
An authentic Ethiopian coffee ceremony experience is as much about the experience as the delightful coffee itself. Coffee-drinking rituals are important in Ethiopian culture. It facilitates bonding and aids in the digestion of a delicious meal.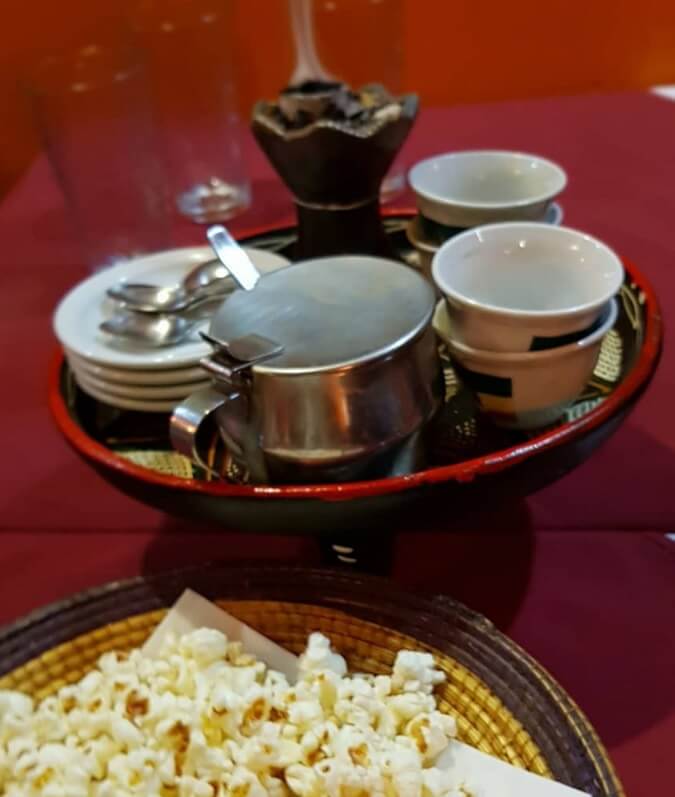 Get There
Ethiopian House | 12pm - 11pm (Thursday-Saturday) / 12pm - 10pm (Sunday, Tuesday, Wednesday) | 4 Irwin Ave, Toronto, ON M4Y 1K9, Canada | +1 416-923-5438
Final Words & Disclaimer
The "House" was born from the simple desire to bring the delicious and unique flavors of Ethiopia to the city of Toronto. Nothing is more important to the staff than fresh produce, fantastic preparation, and quality in everything from service to taste. The chefs have spent decades perfecting the recipes and techniques used in the restaurant today. The whole team invites you to visit and see for yourself.
Please note: this website strives to offer helpful resources to visitors and assist them in making informed plans. However, our content is provided on an "as is" basis and no representations are made regarding its accuracy, completeness or applicability.
Please address queries regarding your dining plans to restaurant staff.
Thank you and stop by soon!
© Copyright 2023. All Rights Reserved.