In the best traditions of Ethiopian hospitality, we welcome you to Ethiopian House. Savor the delights of Ethiopian cuisine - a gastronomic adventure par excellence.
To our first-time guests, may we invite you to sample some new taste treats.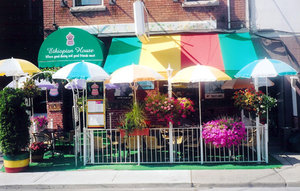 Our Injera (bread) is an Ethiopian staple served with meat or vegetables. Often folded like a large napkin, it serves as a spongy bed for meat or vegetables - and it's a side dish as well.

Small pieces of Injera are broken and with the fingers of the right hand, are used to enfold the meat or vegetables - sauce and all.
"EACH SERVING OCCUPIES ITS OWN LITTLE SPACE ON THE INJERA MAGIC CARPET"
Toronto Life

"HOME AWAY FROM HOME"
A visiting guest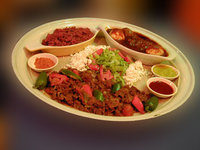 Our meats are specially prepared for individual tastes by our well-experienced chef and her kitchen staff. Vegetarian dishes include spicy split peas, chick peas rich in garlic, lentils, crunchy collard greens and smooth-roasted potatoes.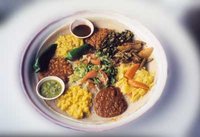 "AT THE ETHIOPIAN HOUSE, A TRENDY RESTAURANT AT YONGE AND IRWIN IN THE HEART OF DOWNTOWN. THE INJERA... RULES SUPREME. THOSE WHO GET HOOKED ON IT, KEEP COMING BACK FOR MORE."
Now magazine

Why not read our full Toronto Star review for more expert views?