Looking for Takeout & Delivery Options?

Visitors to Ethiopian House can enjoy a culinary journey in which the experience is every bit as valuable as the fresh, authentic food. However, we understand that some customers also like to enjoy Ethiopian cuisine at home.
For practical reasons, some special menu offerings like the Ethiopian coffee ceremony can only be truly enjoyed to their fullest extent by welcome guest of the restaurant.
Don't despair, however. Many of the restaurant's most prized dishes, such as Misir Alicha and Gomen Be Sega, can be enjoyed from the comfort of home.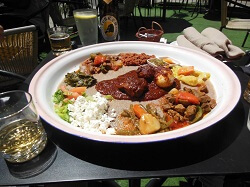 Ethiopian House is a long-standing Toronto institution located near Yonge and Wellesley and has received not only critical acclaim but glowing feedback from guest reviews on platforms including Yelp and TripAdvisor.
Amy Pataki reviewing for the Toronto Star describes Ethiopian House's food, atmosphere, and service as the "best Ethiopian dining experience" in the city. In particular, she praises the ritualistic and atmosphere aspects of dining at an authentic Ethiopian restaurant.
She goes on to praise delightfully cooked vegetables, stir-fry (tibs), and condiments including berbere. This high praise is most welcome given that Toronto boasts one of the most vibrant African dining scenes in North America.
However, it isn't just critics that rave about the Ethiopian House dining experience. Guest Christine praised the Doro Wat in a positive review and commented on how well it goes with side salad and Injera. Meanwhile, guest Karen offers kind words regarding the restaurant's beef, vegetables, and Injera, in her review. She points out how flavorful and satisfying the cuisine can be. Many visitors underestimate just how filling Ethiopian cuisine can be!
Please keep in mind that generally the best way of ordering food for takeout is by calling the restaurant to inquire about options.